E While it is true that webcam  girl modeling can earn you some good cash, this cannot transpire if you have a low fan base. Here are the top seven things to do to catch more fans on webcam.
1. Having A Positive Personality And Attitude
Personality and attitude revolve around behavior. Since your fans are your primary source of income, you need to develop good behavioral interaction with them. Of course, some clients may be harsh at times, but it is your duty to uphold a positive attitude during these times. In so doing, the fans will always prefer and recommend you to their friends.
2. Observing A perfect Cam Set Up Space
In as much as you are free to choose the environment to conduct your activity, it is necessary that you go for a setting that is clean. A clean environment is typically appealing to the eye and will attract more fans. Therefore, consider choosing a clean environment for camming activity if you are interested in increasing your fan base.
3. Awesome Profile Photo for webcam girl nickname
They say the first impression matters a lot. It turns out that this saying is true especially in webcamming. Fans rely on your profile photo to know whether they can become your loyal client. It, therefore, becomes necessary if your profile photo is top notch. The best way to do this is by taking a picture that is highly visible as well as sexy. A little makeup for the ladies is a perfect way of ensuring that you appear attractive and sexy to your clients
4. Adding A Webcam Girl Model Name
A profile photo goes hand in hand with a mode name. Otherwise, clients will doubt the credibility of the account. Just like the profile photo, the model name should also be sexy and unique. A unique model name makes fans find you easily. However, refrain from choosing a difficult name as fans may find it challenging.
5. Maintaining Your Looks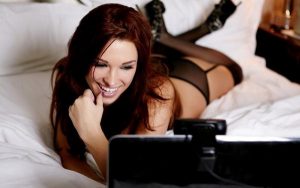 From the previous point, appearance on your profile photo is what makes you have a large fan base. Unfortunately, this is not a guarantee of maintaining your clients. If you don't maintain the same look the clients saw on your profile, there is a possibility that you may end up losing your fans. Therefore, it is mandatory to maintain your sexy and attractive looks as this will not only retain your fans but also help them recommend you to their friends.
6. Consistency
One of the significant factors that drive fans away is inconsistency. It is necessary to be very active in the site to ensure that you have a high volume of fans, Failure to this, clients may consider you as not being part of the webcam site again and opt to follow other cam models.
7. Smiling : How to webcam girl smile on shows
You are not expecting to attract more fans with a frowned face, are you? Therefore keep that smiling face as it boosts your fans rate because webcam model who is always jovial and smiling in their videos.
8. Have Multiple Characters And Make Use Of Different Sites
Experiment with different characters. For example, you can be a sexy school girl or s sluty nurse. Also, do not restrict yourself to using one webcamming site, rather, work on as many sites as time can allow you. These two strategies will help you increase your fan base significantly and subsequently multiply your income.