Outfit webcam: Dressing in webcam modeling can influence your fan base positivity as well as negatively. If you are a new cam model in the industry or have been in the industry but are still not knowledgeable about the kind of attires to wear, this is the article you need to read. It does not only explore the different categories of attractive and sexy clothes but specifies the attires to become worn in each group.
Outfit webcam: 1. Panties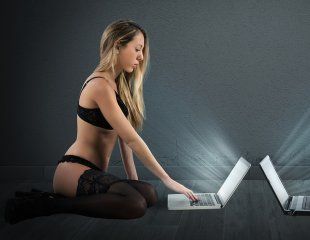 Not all panties are attractive for webcam modeling. You only need to consider three type of panties to stand out from the rest. These three panties are either cotton panties, thongs or fullback silk panties. While black is good for fullback silk panties, consider choosing bright colors for cotton panties and thongs.
Outfit webcam: 2. Bras
Push up bras, sports bra and front opening bras rank as the best bras for webcam stars. It is highly advised that you choose a bra that matches with your panties. However, if you cannot make to find matching panties and bras, chose a bra that pairs well with the pantie you are wearing.
Outfit webcam: 

3. Skirts And Dresses

Your fans although they prefer bras and panties, may sometime get bored with this outfit. You, therefore, have to interchange it with skirts and dresses. Here, do not go for the long dresses. Show up on your videos and photos with a little sexy dress or skirt. For the skirts, in as much as free miniskirts are also advised, you can also consider the pencil skirts as they enhance your bodily features.

4. Pants

When it comes to the pants, the best pants for webcam models are jeans, leggings and yoga pants. Ensure that you choose perfect fitting pants because the aim is to attract your fans. Wearing a somewhat oversize or loose pant will be an easy turn off for any client.

5. Shoes

When you can appear to your fans with bare feet, you can choose to spice up your look with some shoes. The most preferred shoes are high heels, and you can opt for the extremely high high-heels if you can handle them correctly. If you cannot go for the ordinary high heels lest you end up embracing yourself. Boots are also perfect shoes for a webcam star.
6. Costumes
Here, you can either consider the naughty schoolgirl costume or the secretary costume. In case you consider the former you can show up with a mini plaid skirt, a clean button-up blouse, glasses, a knee-high socks, and pigtails. If you opt for the secretary costume, consider dressing to a panty house, sheer to waist, silk blouse, pencil skirt, glasses, high heels, and a ponytail. Push up bras blend well with these types of costume, hence always tag them along. Although these costumes are the most preferred, you need to do the correct matching in terms of colors. Failure to this, you will be unattractive and spoil the whole costume look.
You can be sure to attract more fans if you adhere to the above dress codes.