How to become a Cam Cash Daily Model
Need your webcam cash quickly? Want the best support and tips on how to make the most out of your time online? Cam Cash Daily may be the right place for you.
Cam Cash Daily is a daily-payout webcam agency.  They work directly with models to ensure that those models make the most money possible.
Unlike a lot of other webcam studios, Cam Cash Daily is owned and run by women so there is never any worry that they are trying to gain a 'freebie' from their models.
Daily Payouts
By far the main benefit of signing up as a camgirl with  is that they pay daily, so you never have to wait weeks for your money. This is something you can't get from signing up directly with the platform website, and is often very useful when you are trying to make money quickly for bills or to pay for impulse treats!
Payments are sent daily (Monday-Friday) and go straight to your bank account. The payout is made by a neutral company, so there is no chance of your payments looking like 'webcam earnings' on your bank statement.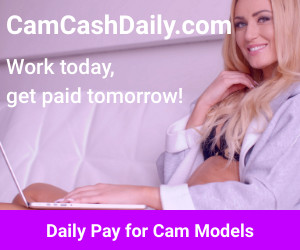 Additional Model Support
Normal model support can be slow and unresponsive, but  you get access to a dedicated model representative who deals with everything from your payments, to tips on improving your webcam quality, to serious earnings-enhancing tactics. If you want to earn more, your model representative will tell you exactly how to do it.
Without this additional support you could be waiting 5-7 working days just to hear back about your support query. Cam Cash Daily model support gets back to you within 24 hours (though it's normally within just a few hours).
When you sign up  you get immediate guidance on how to set up your account. Once your account is approved you then get a series of emails to help you increase your earnings in easy-to-follow steps. If that's not enough, you can get Skype support to look into your individual stream quality and specific advice on how to improve both your webcam stream and your earnings.
What you get with Cam Cash Daily
Daily payouts direct to your bank account
Super-fast support
Extra help with account set up
Tips and tricks to increase your earnings
A friendly and dedicated female model representative
Ready to sign up to become a model with Cam Cash Daily?
It's quick and easy to sign up to become a mode. Just fill in the form at Boleyn Models Studio and they will reply with your login information and next steps.