How to become a telephone sex worker model?
I worked for Arousr for more than 2 years. They also go by Telepass, and they are a Canadian platform. Their platform gives models access to many different ways to make money, including phone sex, camming, and sexting.

How Much Can Camgirl  Make that as a sex worker? 

When I was first working for this platform I was able to make great amounts of money simply by texting and sending pictures. I didn't even have to do any phone sex or camming to make the large amounts of money I was making. However, all of that profit started to go down as soon as they made me take down my second model profile. After that they also stopped paying everyone for the texts that they sent and started only paying for the texts that were sent by the clients.

Unfortunately, when they decided to make all of these changes it made it so that I was making 1/4 the amount that I had been making when I was first working for Arousr. If you are doing the whole camming thing you are going to make a lot of money, but this job is really more for earning on the side while you do the cam girl stuff. When I compared the rates paid by their company compared to the others that pay you for texting, they definitely pay the most.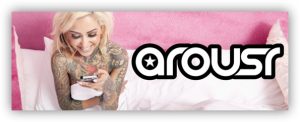 Features And Navigation

The site definitely could use some work when it comes to the look. However, don't let that fool you. Their site is actually very easy to navigate and use. With their site you can actually do camming, phone sex, texting, sell videos and sell pictures. All of that makes the site pretty amazing. Unfortunately models can only send one photo of themselves at a time. Most models complain about this, simply because we want the option to be able to send multiple pics to those wanting to buy more than one pic. Another great feature is that they offer you loads of ways to promote yourself as a model.

How You Get Paid for sex worker

Models on this site will have the chance to be paid by Paxum, check, and PayPal. I am more of the PayPal type, so that is always what I go with when the option is there. The payments are sent out weekly, which is very nice. They also don't make you have to request payment to PayPal, they just automatically send it. I don't know if that's how it works with all of the other methods of payment though.

Traffic

The site does constantly add more girls to the mix, meaning that the competition is fierce. This can decrease the amount of clients you are going to see if you are not properly promoting yourself. Other than the large amount of models on the site, there are also loads of clients that are there for the taking. All you have to do is make yourself interesting enough for clients to want to come to you.

Final Thoughts

Arousr is a pretty great site to work for if you are modeling on cam. I wouldn't try to rely on just phone sex or sexting for your income though. The big money comes from using your webcam.