Wondering how to join Stripchat?  It is a fast-growing cam site and has programs that suit every model. It all starts with signing up here. You begin by being accepted and getting included in the affiliate system, and the account is later converted to the right type of clients after being approved. To become a StripChat model, you must 18 years or older.Click here to join
As a beginner, you may be wondering how you are going to earn money as a webcam model at Stripchat.  This site is not different from most webcamming sites. But it does have some special befits such as high earnings, which goes up to 60%. Here are some tips to help you:
Tips Are Allowed
You can earn tips during an open show. These are the users in your room and if they love what you are doing, they will give you tips to show gratitude. You can also request for the tip to do something specific.
                                                       Private Cam Shows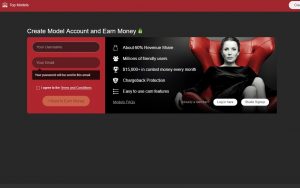 Live private cam shows are allowed. Models can charge a little over one dollar per minute. You can charge like $1.20 per minute, which equals to 24 tokens. This helps you adjust tokens either upwards or downwards.  It enables people to view your shows one at a time.
You Can Make Money With Voyeurs Viewers
The StripChat calls the voyeur viewers 'peeping' and it's another fantastic way for webcam models to make money. They peep at your live private shows, but while the standard rate 40 cents or 8 tokens per minute, you can alter them. To make good money you must to have many peepers.
One On One Cam Shows
These shows have a standard rate of 32 tokens, but the model can also alter them. You can decide what you want to make per session. Also, you have the choice to decline one on one webcam show for your reasons.
Why Become A Webcam Model With Stripchat?
StripChat is one of the best paying webcam sites, and the models take home about 60% of the money they make. You can work any time of the day without any restrictions.  There are no minimum hours, but you can have predictable schedules so that your fans can know when to find you online.
Some Rules To Note
You are not allowed to pull users from the site for direct contacts such as Skype. It is risky for the models and StripChat will not be responsible for anything that happens to you off the website. This behavior can also lead to a ban without any warning. This is to ensure all models are safe.
Besides, models are not allowed to get any other type of payment except tokens. If you are paid via other means such as PayPal or Western Union, StripChat will not be responsible and you can also get banned from the site.